General Practice
GPs are expert medical generalists who provide the first point of contact with the NHS for most people in their communities. They may deal with any medical problem, from cradle to grave, and by providing continuity of care to their patients, families, and communities, they contribute hugely to keeping the nation healthy.
Training Programmes Home
Crawley & East Surrey Hospital General Practitioner Specialist Training Scheme
Historically there was a scheme based at Crawley Hospital and another scheme at East Surrey Hospital in Redhill. With the merger of the two trusts in 2000 it became clear that the service reconfiguration meant that the schemes should merge.
The large number of doctors on the scheme means that there is a full day of educational activity during term time with the doctors who are in General Practice, ST3 trainees attending on a Wednesday morning. After a brief lunch the ST3s leave and ST1 and ST2 doctors whose hospital rotations allow them time to attend join for afternoon teaching. Because of service commitments and other departmental based teaching it is recognised that this may be sporadic attendance.
CRESH GPSTS day release course – What is it for?
To act as a bridge between hospital based practice and the more independent working as a General Practitioner.
To develop clinical and inter personal skills fit for the purpose of independent general medical practice.
Awareness and attainment of knowledge and skills above and beyond those required for the nMRCGP.
Development of a strategy to cope with the demands of primary care.
Managing change
Lifelong adult learning
Personal Learning plans
Building a support network
Why have a Day Release as well as tutorials in the Practice?
There are some things within the learning needs of GP Registrars that are best addressed within a group environment – these include:
Feedback
Shared experiences and a broader perspective
Peer support including dealing with feelings and emotions
Rehearsal (role play)
The opportunity to be yourself
Time to reflect
Specialist resources
The GPSTS can also cover areas that the Trainer finds difficult to deal with in the tutorial.
CRESH Practices and location
The 23 practices that provide the General Practice component of the GPSTS training are based in the northern part of West Sussex and the eastern part of Surrey centred around the towns of Crawley and Redhill. The scheme is a large scheme offering flexible training opportunities to meet your own personal development needs, tailored to your previous experience. The area covered by the scheme is midway between London and the South Coast, about 35 minutes from Central London by train. Gatwick airport is in the centre of our patch and Brighton and the south coast 30 minutes away by car or train. Crawley is an early example of the "New Towns" having been subject to significant expansion in the late 1950's and 1960's. Like Milton Keynes Crawley is famous for its roundabouts. The current population is over 100,000 and the proximity of Gatwick airport means that there is almost full employment. There is a wide mix of social and ethnic groups. The people who originally moved to the new town are now forming an ageing population and the age distribution of the area as a whole mirrors that of the UK. Redhill and Reigate are the two towns to the north of the area covered by CRESH. They are old established towns just outside the M25. Although much of the population is prosperous there are areas of significant social deprivation within the borough.
 CREH VTS Program directors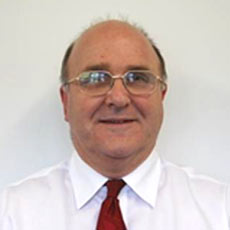 View Profile
I have been a Programme Director since 2004. I have been involved in vocational training in East Surrey since the early 1990s as a Trainer. I have just retired as senior partner at my training practice in Smallfield, just to the east of Gatwick airport. I will continue to have a role in clinical practice but to a lesser degree.
Prior to my appointment as Programme Director I have been involved with the local PCG and PCT and with the InPS computer user group. I am married to Clare who has retired from her role as a teacher at a school in Reigate and have two children who have recently completed their university educations.
View Profile
I am a GP partner at Smallfield Surgery in Horley and an Appraiser for NHS England South.  I have been a Programme director since February 2018. It seems like coming home to me as I trained in the CRESH VTS scheme. Before joining this post as a PD, I was a clinical lead at the East Surrey CCG.
General Practice provides me the clinical diversity and continuity of care which I enjoy. My special interests are Diabetes, Minor Surgery with joint injections and Family planning. I am trained as a Family planning trainer. I have been involved in several community based projects like making East Surrey a dementia Friendly community,  establishing a diabetes forum for the local clinicians and  Altogether better with Practice Champions.
Education is at the core of all my activities. I am a constant learner as I continue to learn by teaching from the school students who aspire to be doctors to medical students, Physician associate students, Foundation doctors and GP trainees.
I live in Brockham with my husband, three children and a dog, Outside medicine I enjoy reading and experimenting with cooking using different gadgets with the current favourite being Thermomix.
View Profile
I do this job alongside working as a part time salaried GP in Caterham. The practice where I work is a busy training practice. I did my post graduate training in Birmingham, having been to medical school there. Initially I trained in hospital medicine and then worked for a year in medical education before starting my general practice training.
I live in Reigate with my husband and our young daughter and son. I enjoy the diversity of general practice and the challenge of juggling this with family life. My hobbies include tennis and discovering good restaurants.
View Profile
My career in Education started in 2000 when I became the first trainer at my practice in Redhill where I had been a Partner since 1990. I married John the same year, which was also the year I finished VTS training in Croydon.
I have had a colourful career which may give an insight to my personality or perhaps more to the fact that I juggle my career with running a home and managing three teenage sons and a mad Yorkshire Terrier.
I took a three year career break in 2001 to spend time perfecting my tennis and Spanish in Miami , and came back to work part-time as a salaried GP at Tilgate Surgery in Crawley, and more recently in Smallfield Surgery.
I rediscovered my love of teaching and learning when I took on the role of GP Tutor for East Surrey in 2005, and then Programme Director in August 2006.
My other professional interests include my work as an appraiser, QOF assessor, and more recently, as a member of the Commissioning Board for ESCCG.

Education Campus Reception

SASH Education Campus
Surrey and Sussex Healthcare NHS Trust Trust Headquarters
East Surrey Hospital
Redhill
Surrey
RH1 5RH