Cardiology
Involves the care of patients with heart disease and covers a wide range of clinical activities. Management can involve interventional treatment and cardiac imaging and draws on a large evidence base of effective preventative and therapeutic options.
Medicine Home
The subject of cardiovascular medicine embraces a very wide range of clinical activities. Cardiology enjoys an unrivalled evidence base of effective preventive and therapeutic options. The new imaging modalities such as magnetic resonance and CT scanning will certainly complement and probably challenge the invasive investigations performed in the cardiac catheter laboratory.
The expert clinical management of patients with heart failure, cardiomyopathy or atrial fibrillation is as rewarding as the quasi-surgical skills demanded of the coronary or electrophysiological interventionalist. If you are decisive, energetic, interested in effective therapies, and enjoy working in a team that includes specialist nurses, cardiac physiologists and cardiac surgeons, then cardiology may well be the Specialty for you.
Education and Clinical Teams
Dr Shrilla Banerjee
Educational Lead
View Profile
Dr Shrilla Banerjee is Consultant Cardiologist with a special interest in Intervention. She trained at the University of Birmingham and then completed postgraduate training in London, with General Medical training on the St George's Medical rotation, followed by posts at Guys Renal Unit. Her Cardiology training was completed at UCLH, the Royal Free Hospital, the London Chest Hospital and the Middlesex Hospital.
Her MD was in Cardiovascular Epidemiology (University of London) and papers from it were published in the New England Journal of Medicine, the world's foremost medical journal.
In addition, she has co-authored a popular and well-received textbook of Cardiology, Swanton's Cardiology. She maintains a keen research interest being Principal Investigator of the Remote Ischaemic Preconditioning Study here at Surrey and Sussex, a study in collaboration with the Hatter Institute of UCLH.
She has sessions for angiography, angioplasty and pacing here at SASH and also at UCLH. She maintains an interest in general cardiology including coronary artery disease, hypertension, cardiac arrhythmias and women's cardiac health.
Dr Nandu Gandhi
Clinical Lead
View Profile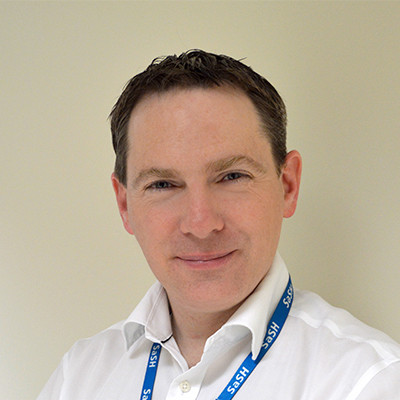 View Profile
Dr Ben Mearns who joined SASH in 2007, is a consultant in acute medicine and a geriatrician. He is chief of medicine and responsible for leading the extensive number of services within the medicine division; ranging from the emergency department (A&E) and cardiology to therapies and pharmacy.
He is passionate about patient engagement and the delivery of safe high quality care. He values the opportunity to hear from the people we care for and to ensure that their views are heard. He is a strong advocate of patient involvement in continuing to develop and improve the services we provide.
Dr Mearns is a member of the SASH executive committee and an active member of the transformation guiding team. He is also a senior associate at the Nuffield Trust.

Education Campus Reception

SASH Education Campus
Surrey and Sussex Healthcare NHS Trust Trust Headquarters
East Surrey Hospital
Redhill
Surrey
RH1 5RH